How to batch-edit 360 photos seamlessly
Colour-correcting or grading a 360° photo will often result in a visible seam. The following script allows you to batch-edit your photos in Photoshop without creating the ugly seam line. It applies your most recently used Photoshop filter to all the photos in a folder, seamlessly.
To install the free Photoshop script, click the download button below:
The above video provides complete instructions on using this script, including a detailed explanation of how it works. Here's a summary of how to use it:
Firstly, close Photoshop if you have it open.


After downloading the Seamless360Edit.zip file, unzip the Seamless360Edit.jsx file into the following location:

WINDOWS – C:\Program Files\Adobe\Adobe Photoshop CC 2019\Presets\Scripts

MAC – /Applications/Adobe Photoshop CC 2019/Presets/Scripts


So that the script can apply a Camera Raw filter to all the photos in a folder, make a Camera Raw edit to one of the files first.


Then all you have to do is go to > File > Scripts > Seamless360Edit


Select your folder and click "Select Folder".
That's it. The script will now apply the same colour adjustment you just made to all the photos in that folder, seamlessly. It will save a finished version of each file with "done" appended to the start of the name. That way, the completed files are easy to find and the originals are untouched, in case you need to make different edits.
The script is provided for free, as-is without any warranties. As with all edits, make sure you have a backup of your files before making any changes.
Common mistake
You may get this error: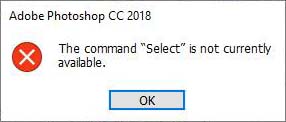 It just means that you haven't watched or read the instructions above and jumped right into running the script. It's OK, I might have done the same. The error occurs if you haven't applied a filter previously in that Photoshop session. Manually apply a Camera Raw filter to one of the photos first, so that Photoshop knows what adjustments you want to make to all the photos in that folder. Then close that file. You can then run the script on that folder so that all of the photos in it will have the same adjustment.
Happy seamlessly editing your 360° photos!